I've never been good at accepting and continuing on the blog awards I get so I figured enough is enough! Here is my stab at being an e-team player, if you will. But before that, here are some actual photographs of my outfit for today: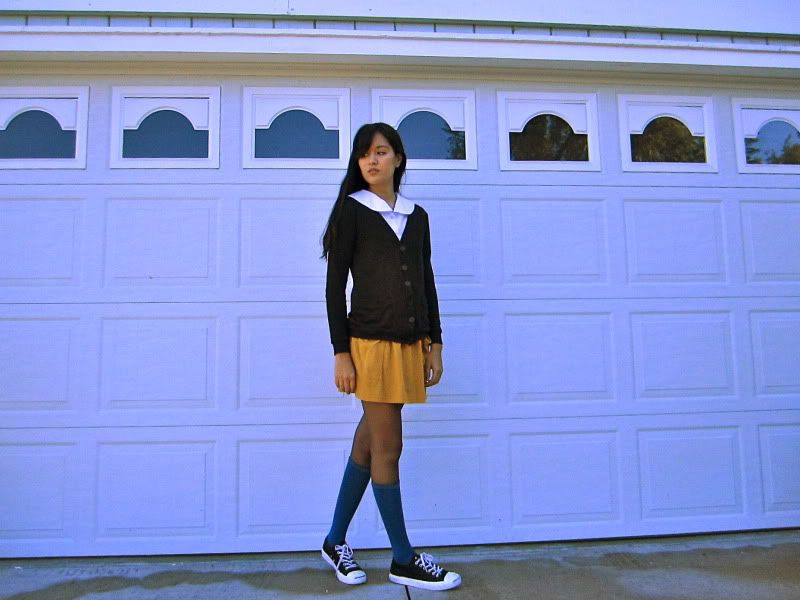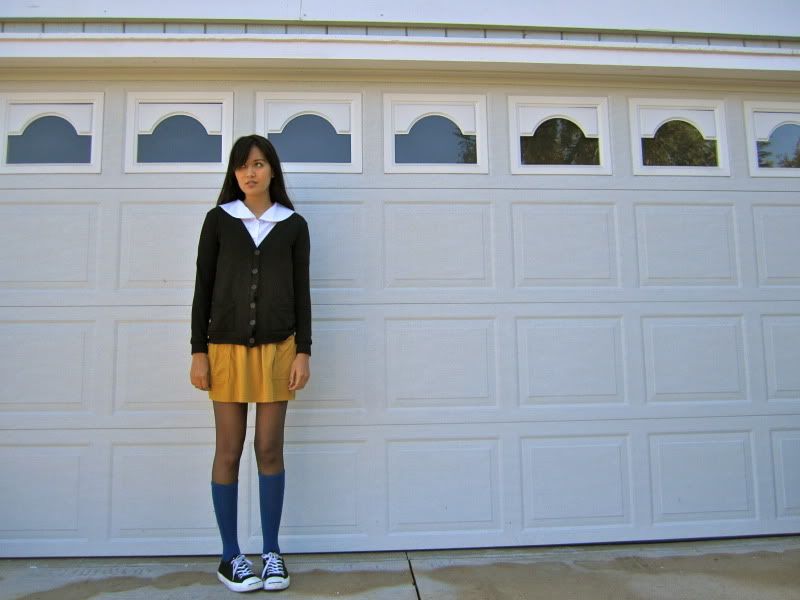 I obviously spiced things up by posing in front of my glamorous suburban garage door instead of the glamorous suburban cinder block wall in my backyard. Worn to go Christmas shopping and to the post office.
Details
: Oversized peter pan collared blouse, I think it's a part of a school uniform from the Philippines, black cardigan: UO from the sale section, mustard pocket skirt: American Apparel--a gift from forever ago, sheer navy blue tights, bright blue socks: F21, Jack Purcell's: from Grant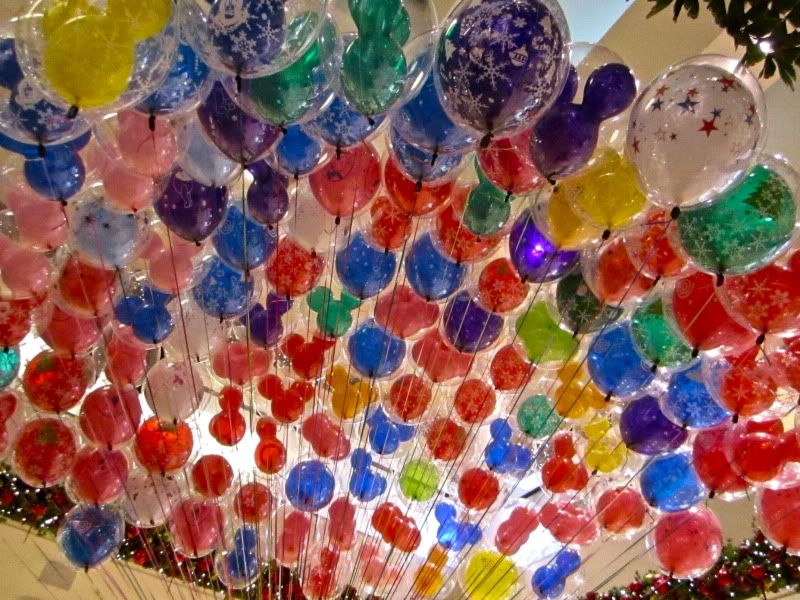 Balloons at South Coast Plaza
Mmkay now onto the awards! If I nominated you and you're not into it--no worries. There is absolutely no pressure to keep this blog award aka chain letter going. Feel free to break the rules as you see fit.
Again, thank you
Sian
and
Kristen
for the noms.
Also, there are minor "stipulations" for the two different blog awards. I just picked 14 blogs/ people that I like and are into. Anyway...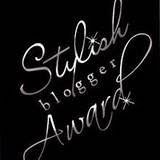 "The Rules": So this is how it works: Thank the person who gave you the award, tell 7 facts about yourself, give the award to 7 bloggers you just love, and leave the 7 bloggers a comment telling them they won!
Emily http://rubyslipperjourneys.blogspot.com/
Aśa
http://my--private--spot.blogspot.com/
Holly http://www.hollyknitlightly.com/
Melissa http://hammocksandtrampolines.blogspot.com/
Jenny http://fashionmademefunky.blogspot.com/
Beatrice http://dearbeatrice.blogspot.com/
Kallie http://happyhoneylark.blogspot.com/
7 Facts About Me
I have never owned a pet BUT this is changing next month. I'm getting the babiest kitten to call my own!

When I was in high school I was drama club president and the year before drama club treasurer.

I played the Enchanted Wardrobe (aka Madame de la Grande Bouche) in Beauty and the Beast also in high school. The costume was literally made out of wood and was super heavy but I had to sing and dance in it.

My fingers are hyper extended meaning they basically can bend backwards. This freaks people out. Here is a picture:

Some of my favorite bands include The White Stripes, Belle & Sebastian, David Bowie, Elliott Smith, The Decemberists, Morrissey/The Smiths, Interpol, etc.

I don't spend a lot of money on clothing but I WILL spend money on high quality makeup. It's not like I even wear tons of the stuff or experiment with crazy colors...I suppose I just like it, it's a stereotypically girly trait that even I can't deny.

It takes a lot for me to genuinely laugh out loud at something. Something might make me smile or chuckle softly to myself but to make me really laugh? That's a different story. I will say that Grant makes me genuinely laugh every time I see him (cue the awwws)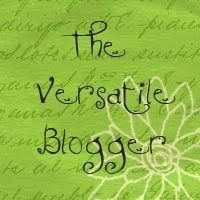 "The Rules"
To accept the Versatile Blogger Award, there are some rules to be follow:
1. Thank and link back to who gave you the award
2. Share 7 things about yourself
3. Pass it along to 7 other blogs you recently discovered and enjoy
4. Leave your recipient a note, telling them you awarded them the award
7 More Facts About Me
I never know if this is obvious but I'm half asian! Half Filipina half white although I pass for a lot of other ethnicities too which is really cool.

I am absolutely itching to get my hair CUT. I don't know if I will go short or just get a trim and some layers redone but my current hair is driving me crazy.

I hate being cold. I find that I dress less creatively during colder months because my number one prerogative is just to stay warm which seems sort of dramatic—you'd think I lived somewhere really cold but alas I'm just kickin it in Southern California. I don't know what my deal is.

Other dislikes: jerk drivers that weave in and out of traffic and cut people off, when people can't get off their phones and constantly use them to text or check stuff when in a hanging out situation, food scented candles (the only exception being cinnamon spice),generally obnoxious people, etc.

My least favorite fashion look is what I call the typical LA look, ripped denim shorts, ripped sheer black tights, some sort of weird asymmetrical top or blouse, mile high platform footwear, accessorizing with fur via a Davey Crockett hat/racoons tail on bag/ fur hood with ears, lots of black eye liner...you get the picture. I don't think I have ever seen someone genuinely pull this whole look off without coming off like a complete and utter d-bag. I'll eat my words when I see it done.

I don't have any tattoos or piercings (besides my ears....which are crookedly done. And yes I was one of those infants who had pierced ears)

I don't drink coffee, smoke, or casually swear.
If you have any more questions you can always ask me anonymously using formspring on the right!
Edit: I made a tumblr! If I follow you on blogspot be prepared to maybe see some photos of yours on my site (with appropriate linkage of course!). If you have a tumblr let me know so I can start following you!
http://milkteeths.tumblr.com/