Here's the unabridged version of the entry that I submitted for the Refinery 29 contest. I know people usually get jazzed on fashion week and look to it for inspiration/ new trends but I find that I get inspired most by books, movies, history, and art. Anyway, here's what I came up with...
F
orget about wanting to dress like a half Asian British celeb with ombre hair, an edgy pop star with a craving for
carne
couture, or your favorite tween style blogger. All forgotten? Good. Now let's hit the books and take notes on some other movers and shakers of the decidedly non-digital age: the stylish lady characters of 19
th
& 20
th
century literature.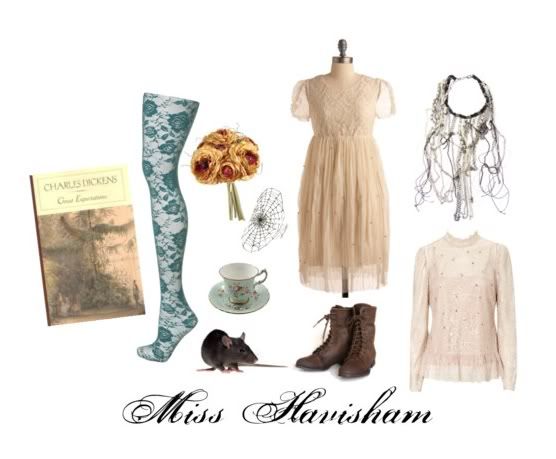 Miss Havisham
Poor Miss Havisham: jilted at the altar by a guy who also turns out to be a world class con artist sucks, no matter which way you look at it. But does getting even with the world really mean adopting a little girl, spoiling her, and making sure that she grows up to be a professional ball buster? In any case, our spin on this eccentric
Great Expectations
character includes delicate ivory clothing, worn leather boots, tangled chains, and a pop of "something blue"....moth holes and dust bunnies not included.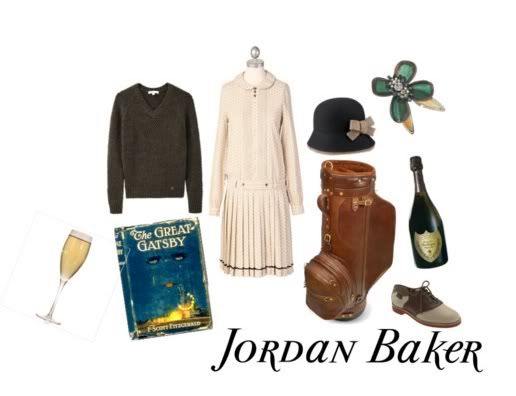 Jordan Baker
Move over Daisy Buchanan, because Jordan Baker was clearly the HBIC in
The Great Gatsby
. She might not have had scruples but what she lacked in conscience she more than made up for on the green. Just don't let her drive a car (ditto for Daisy). We'd like to think that she'd be perfectly at ease in a sporty outfit that combines feminine details with solid menswear inspired pieces, like a delicate accordion pleat skirt paired with sturdy lace up oxfords and a cloche hat tilted jauntily askew (and yes, we just used the word jauntily).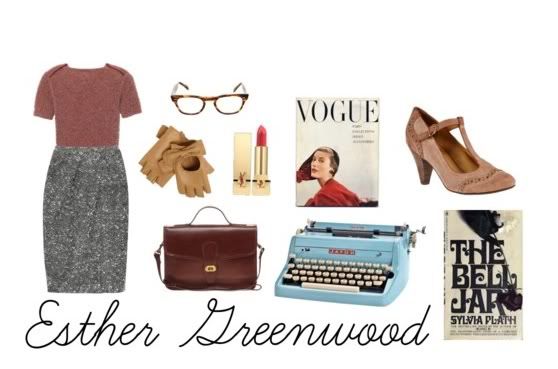 Esther Greenwood
The original stylish intern, Esther Greenwood has smarts for days, works at a fashion magazine, and waddya know, isn't all that impressed with the fashion world or New York City. But because
The Bell Jar
is set during the 1950s and since she does technically work in fashion, Esther probably would have went to work looking pretty dolled up. Tweed pencil skirts, little leather satchel bags (what better to hold her manuscripts in?), and bright red lips is the look we are envisioning for this melancholic Miss.