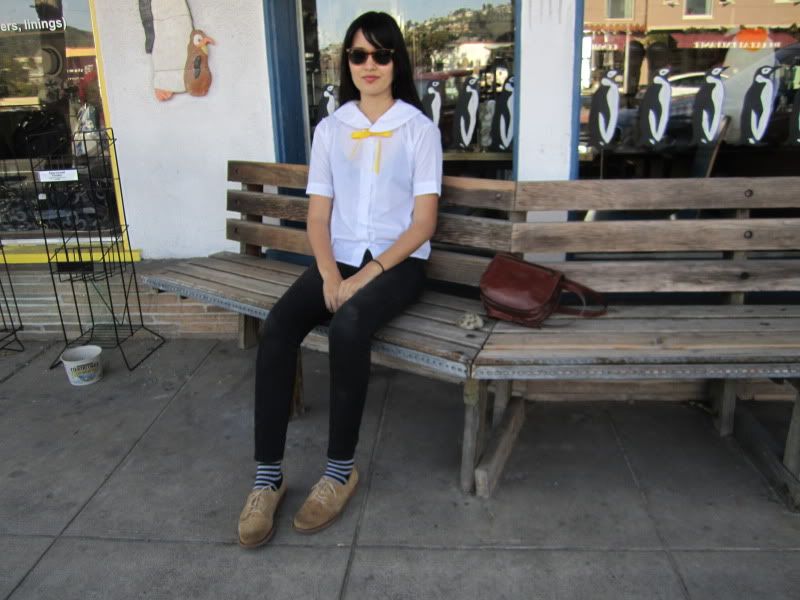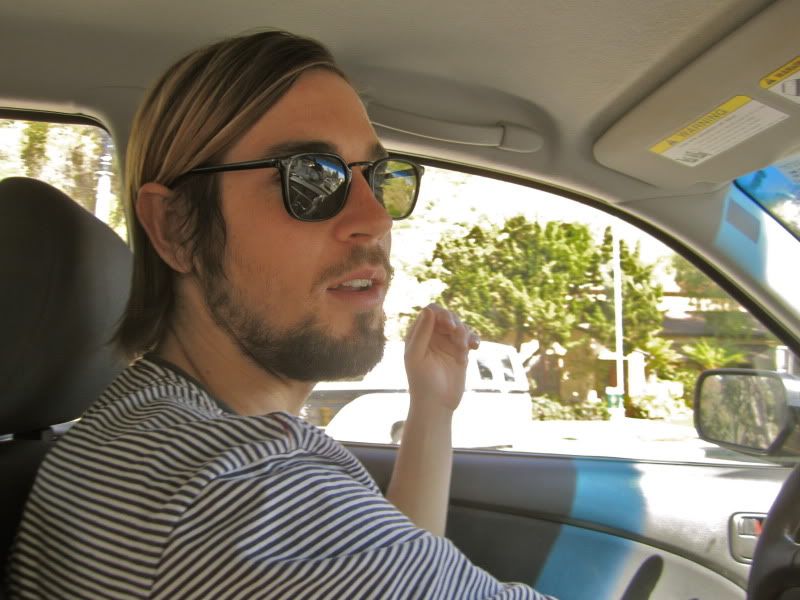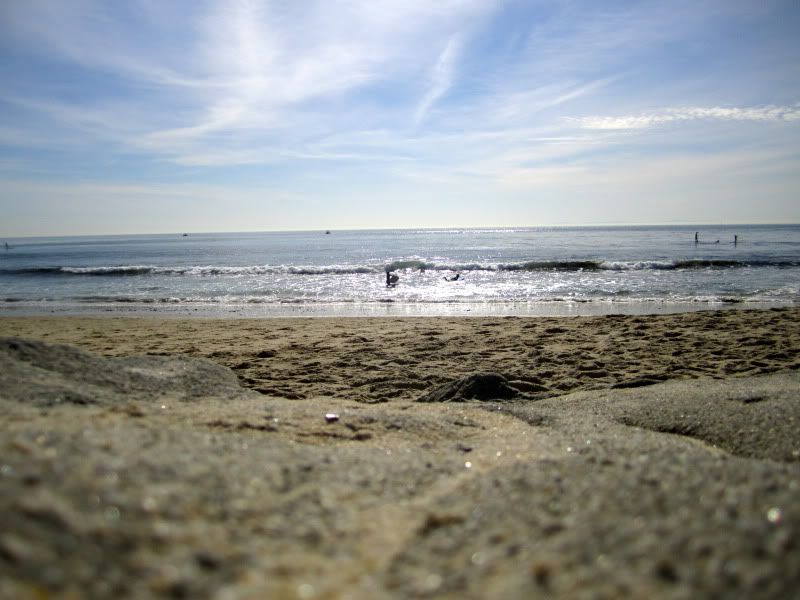 Outfit details:
White peter pan shirt: from a Philippines school uniform
Yellow ribbon: craft store
Jeans: Levi's
Socks: F21
Shoes: thrifted
Sunglasses: thrifted
A
few snaps from a weekend spent playing copious amounts of Wii (Super Mario Brothers!) and trotting around town. Grant and I strolled over to Laguna Beach to enjoy the beautiful beach weather (finally, a beach day minus the cold beach wind) and specifically, we headed down to Thalia Beach which is right by a great vegan cafe called The Stand. Anyway, we did a bit of beach combing and I found the best rock that had these holes naturally bored into it so I'm thinking I'm going to plant some grass in the holes or something. However, I'm still on the lookout for a big piece of gnarled driftwood to make a terrarium that I saw a few weeks ago. The combination of the desert succulents with the ocean wood is a great juxtaposition and one that totally typifies Orange County. If I find that piece of wood soon I'll make a DIY!
Anyway about this outfit: it's pretty basic but I thought it was fine for a lazy weekend strolling seaside. What i'm not fine with is how faded my black jeans are getting---yeesh! This doesn't bode well for me because I don't think Levi's makes this cut anymore which is dumb. Probably the only brand loyalty I have is towards Levi's denim, a pair of jeans is one of the few things that I am willing to shell out money on but how can I possibly buy what they refuse to make? I guess i'll have to settle for trolling Ebay.
On a semi-related fashion note, I went to the craft store the other day and bought a yard of three different ribbons that they had for sale. I'm not sure if this is obvious, but craft/fabric stores are great places to get accessories! I really love the look of ribbon tied around a collar (bonus points if its of the peter pan variety) so I figured I'd stock up at the craft store. I'm wearing the yellow grosgrain ribbon I bought and I think it adds that little pop of color so that an outfit doesn't get
too
boring.
P.S.
Edit:
This just in, I'm Glamour Magazine's Best Dressed Reader of the Day! Hooray! Click over HERE to take a look!
++Read an interview I did with Unique Women Clothing over hurrr:
CLICK
. It demystifies a few things about me and my blog so if you were ever curious about why I named my blog Milk Teeths well....your queries will be answered!
++ A small blurb I wrote is up on the Foam site!
CLICK
++ Still accepting donations in the form of votes for the Refinery 29 Style Blogger competition! Help a lady out by clicking
HERE