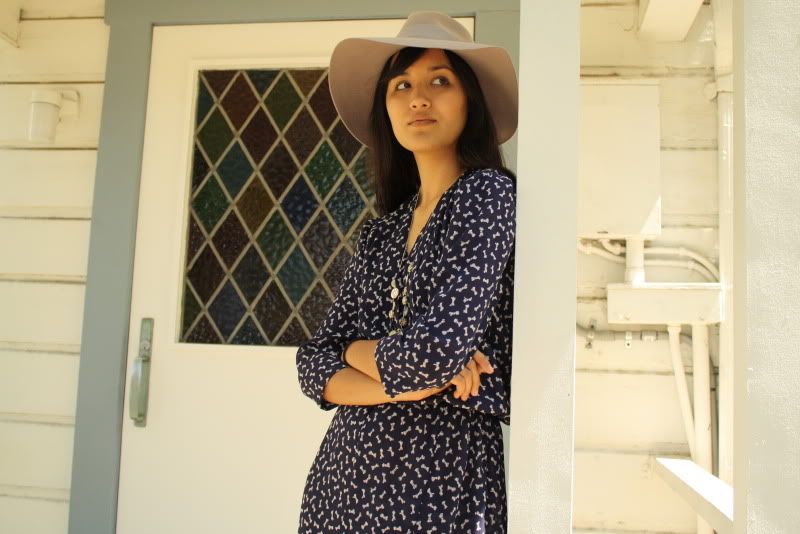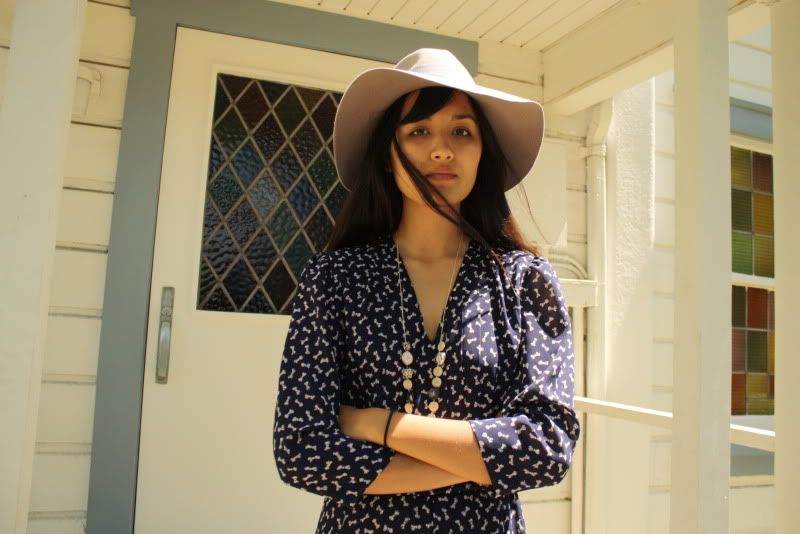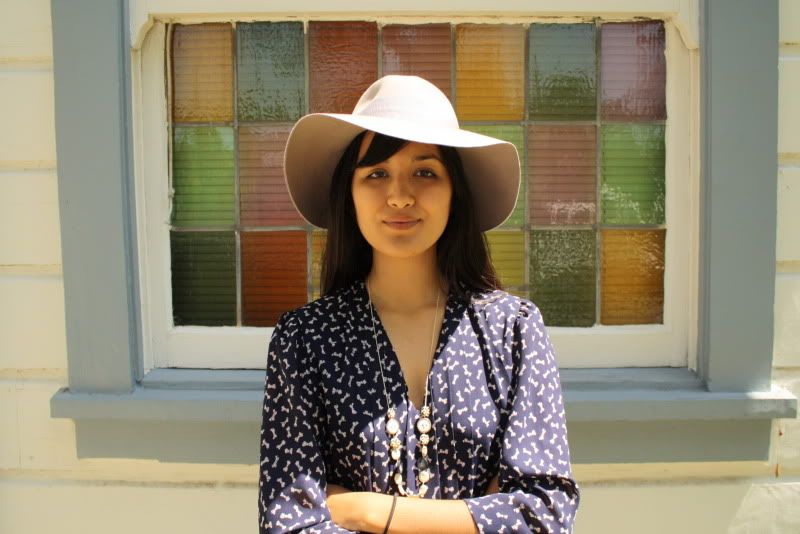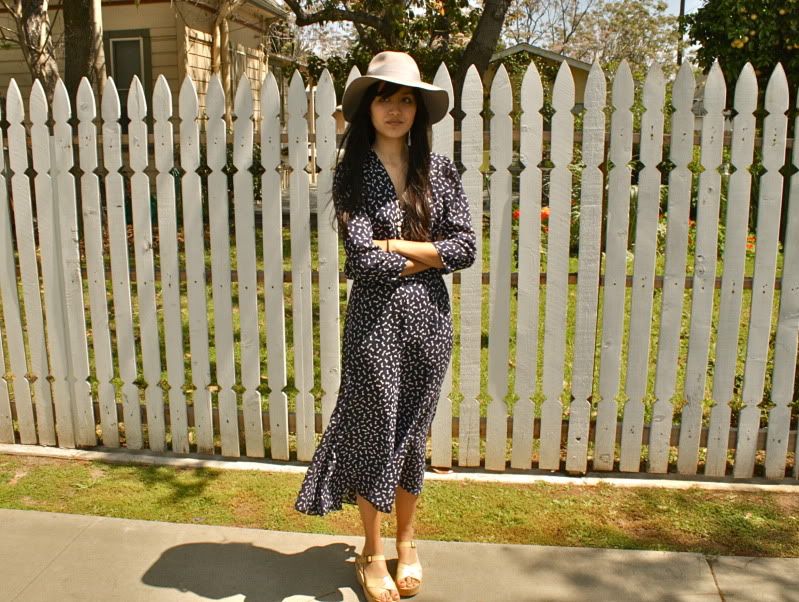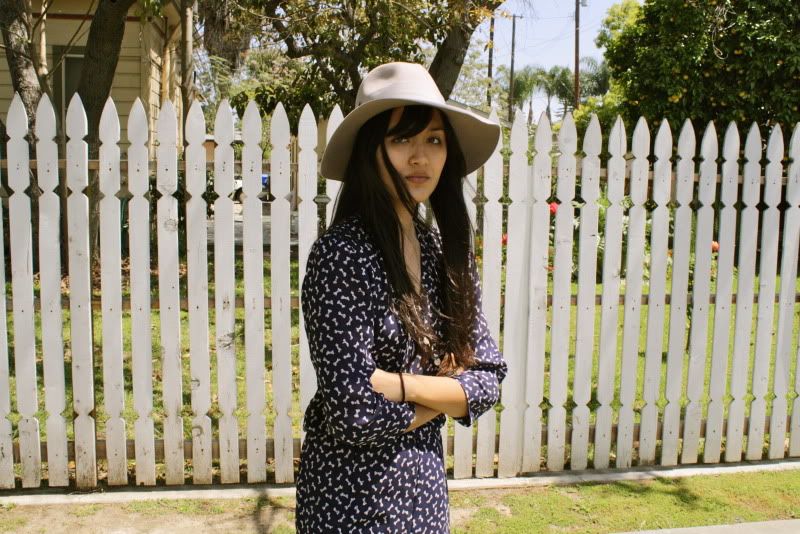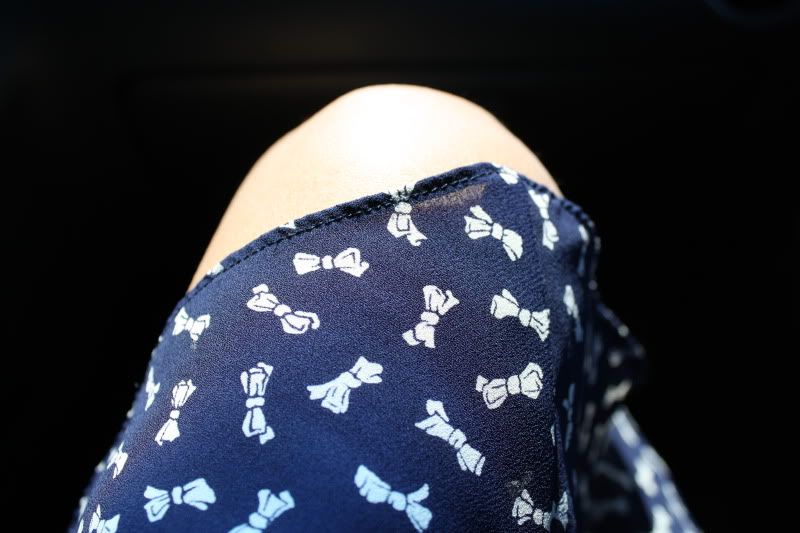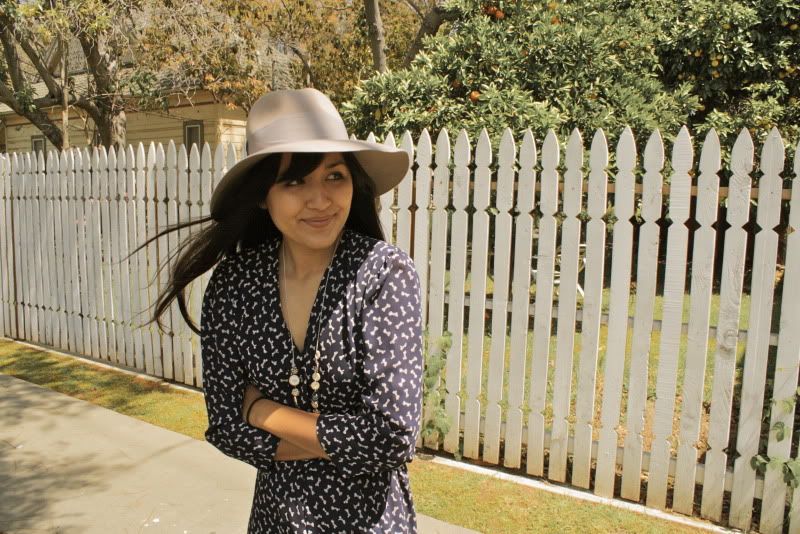 Outfit Details:
Navy blue bow print maxi dress: thrifted
Gray wool floppy hat: thrifted
Kork Ease sandals: thrifted
Button necklace: DIY
H
ere I am in my fancy brunchin' outfit. Well, it's not really that fancy but it I felt more gussied up than normal which translates into fanciness for me. It was one of those dreamy Southern California spring days--all sunshine and flowers, so I figured it wouldn't hurt to try something new. I've never worn a long dress out in public and I was worried that all of the fabric would read as frumpy but I think the dress is cut in a very youthful way (slightly flaired skirt that has a nice swing to it coupled with 3/4 sleeves and a fun bow print) so all was well in the end. I actually had to take my hat off later in the day because it was a little too breezy that Sunday (those floppy hats really take off if the wind blows just the right way).
Also, doesn't that stained glass remind you of Jolly Ranchers? I know that there is a way to make "stained glass" for super fancy gingerbread houses that require baking Jolly Ranchers in the oven. Maybe I'll attempt it one day...
And

check out a fast five question Q&A I did over at the French Connection blog, Electrique. You will learn a guilty pleasure of mine if that sweetens the deal any. Check it out HERE
Part Two: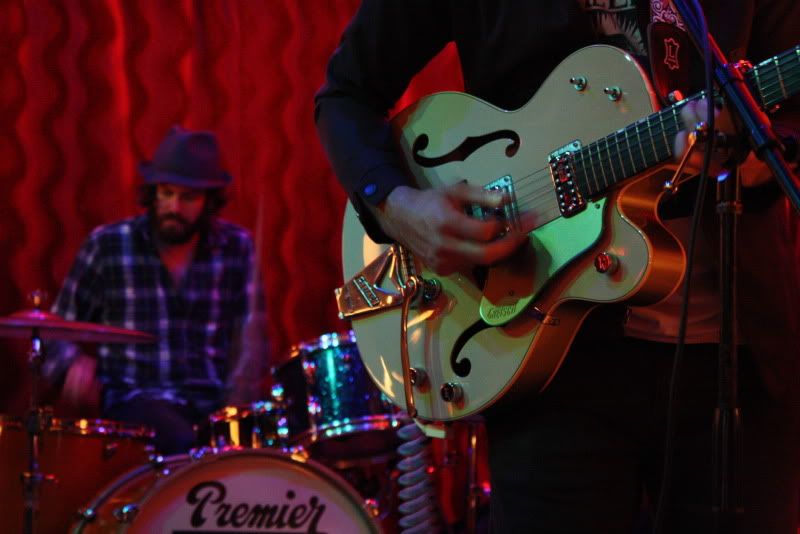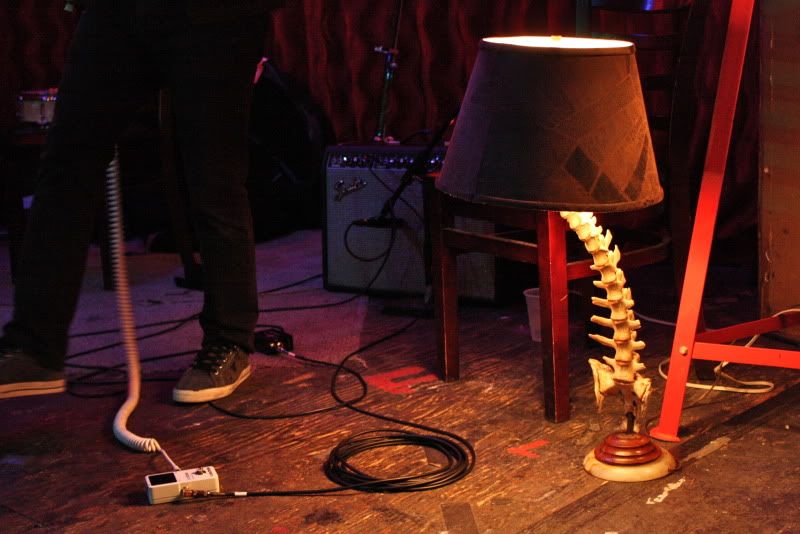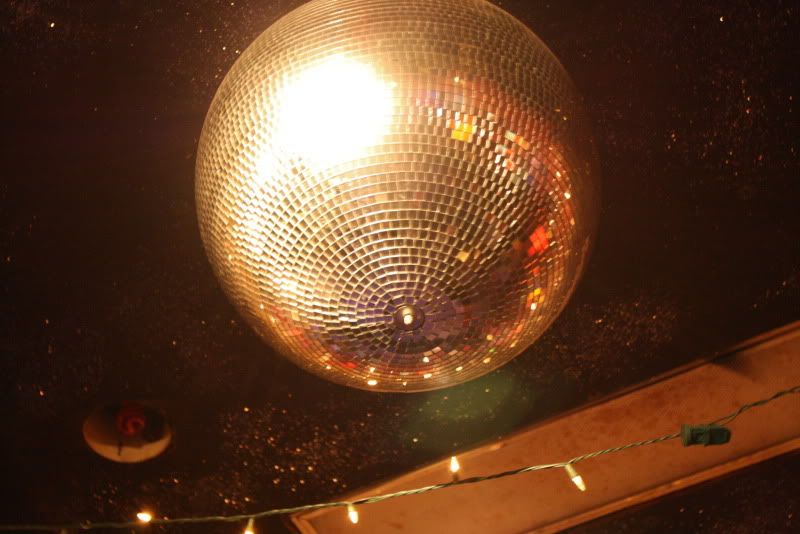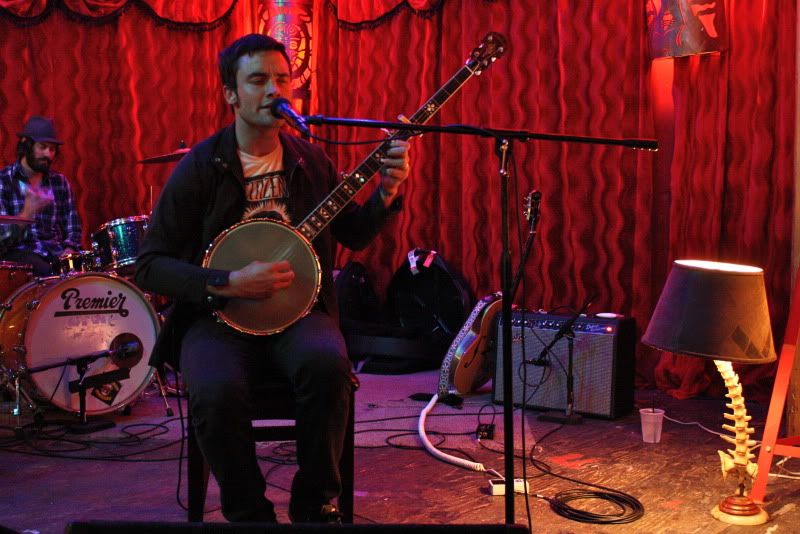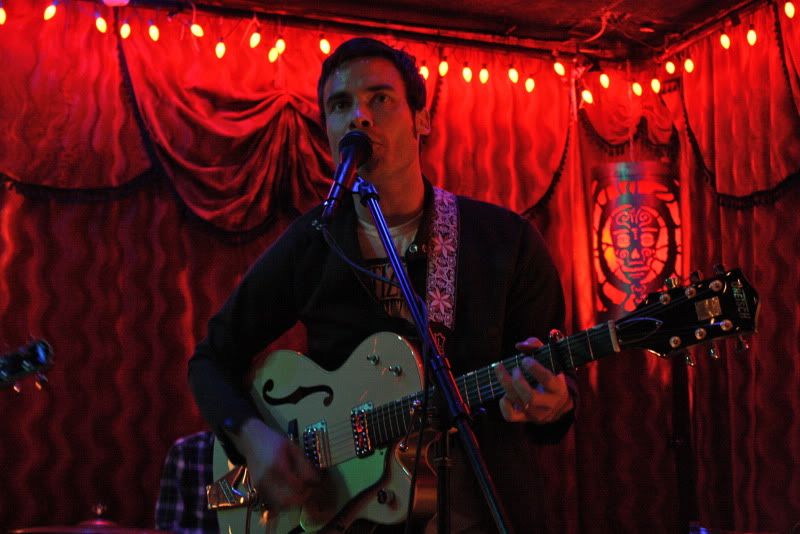 O
ver the weekend Grant and I came out to support our friend Josh Harmony who just released an album called Lamps. We trekked over to Alex's Bar in Long Beach and surveyed the scene. I'm not really much of a bar goer but Alex's Bar had a nice vibe to it, I suppose you can't really argue with a place that has silver glitter on the ceiling and a photobooth. Anyway, after a set by Ray Barbee Josh went on and he was super great! Talk about talented.
Bonus: I think J. Mascis (of Dinosaur Jr.) and The Blackheart Procession are playing at this bar next month so if that strikes anyones fancy you should hit this place up! Tickets HERE
Lastly
I know, this post turned out really long but whatever. My blog, my rules! Anyway, I bring you this: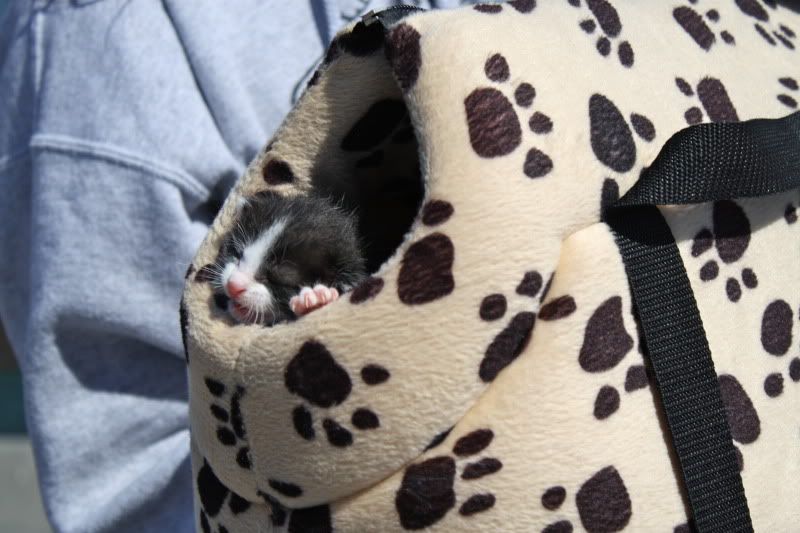 AHHHHHHHH!!!!!!!! The sweetest, most baby kitten I've ever seen. Grant and I encountered this fellow on Balboa Pier. I guess this kitten was abandoned (along with the brother who was inside the bag also) and this little girl was taking care of them! Too much cute for the day, I nearly passed out.