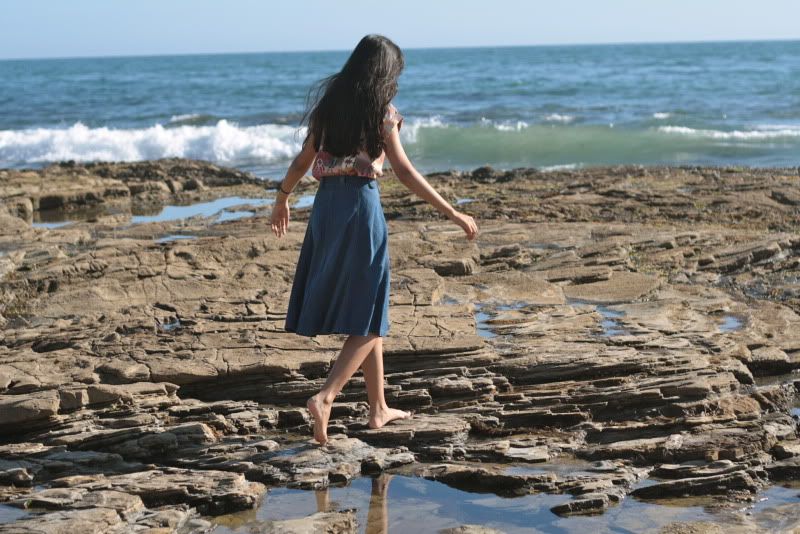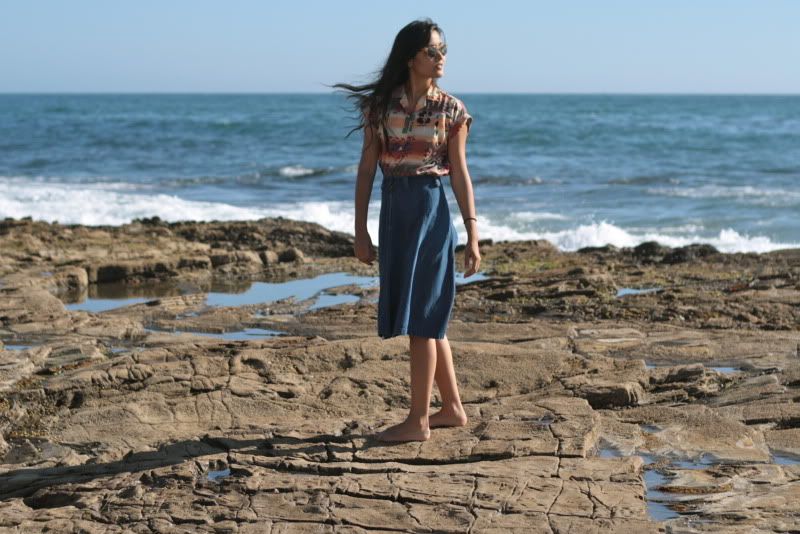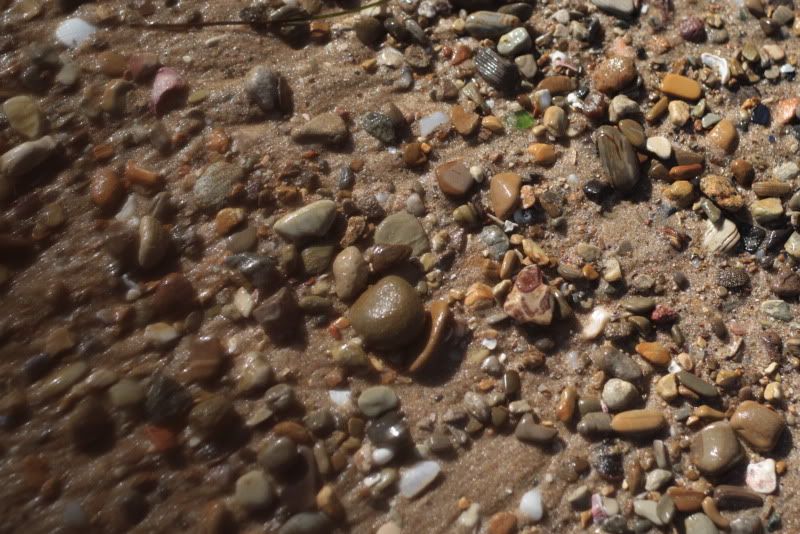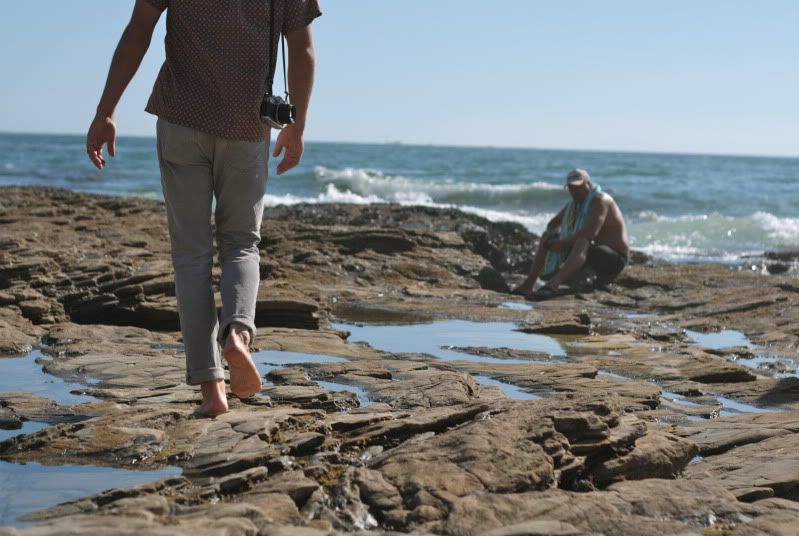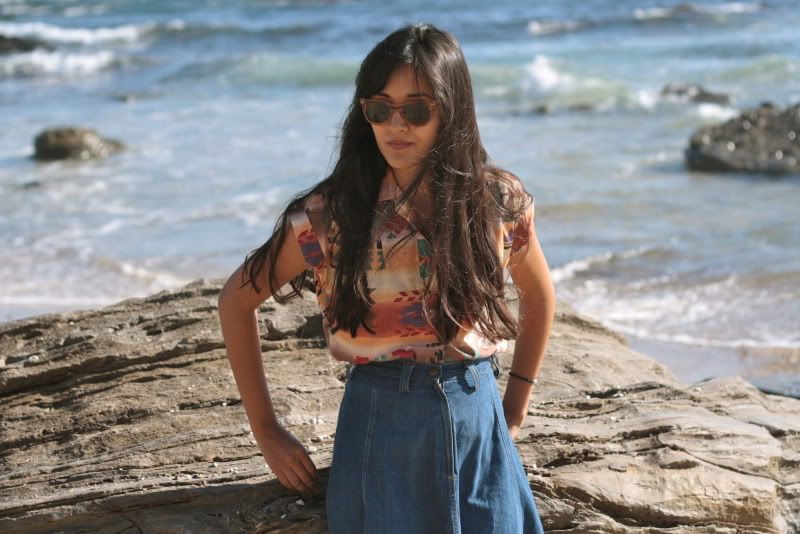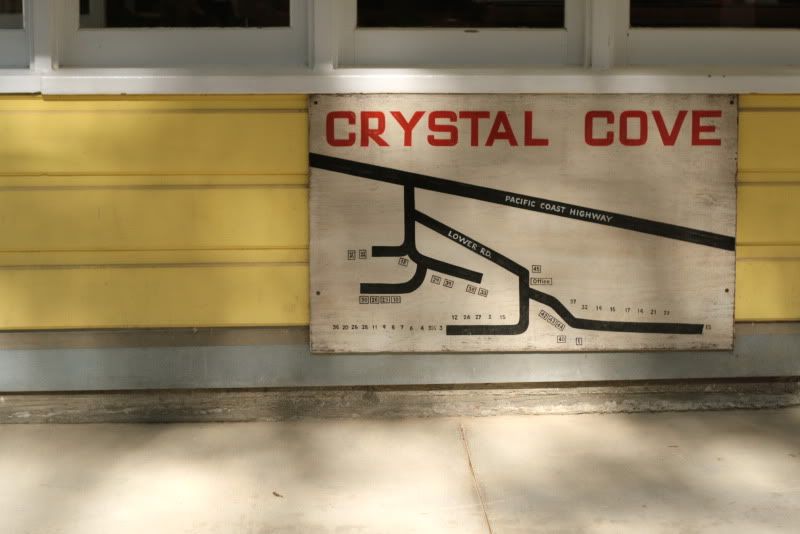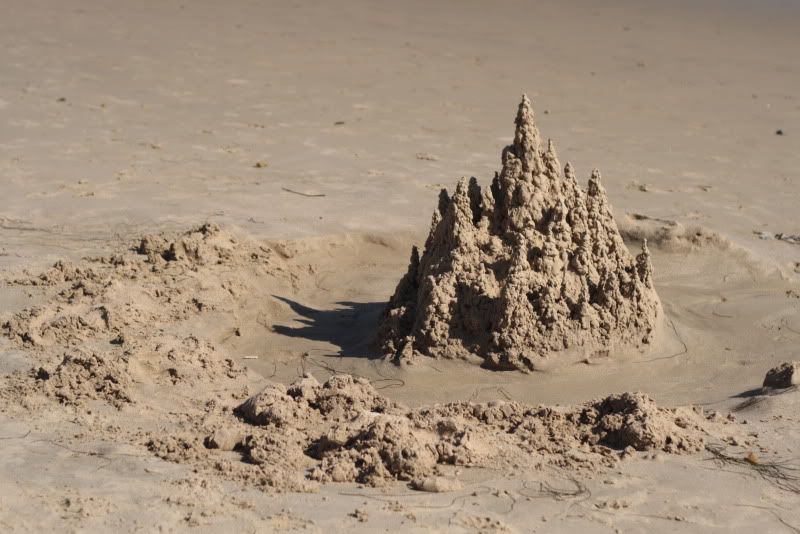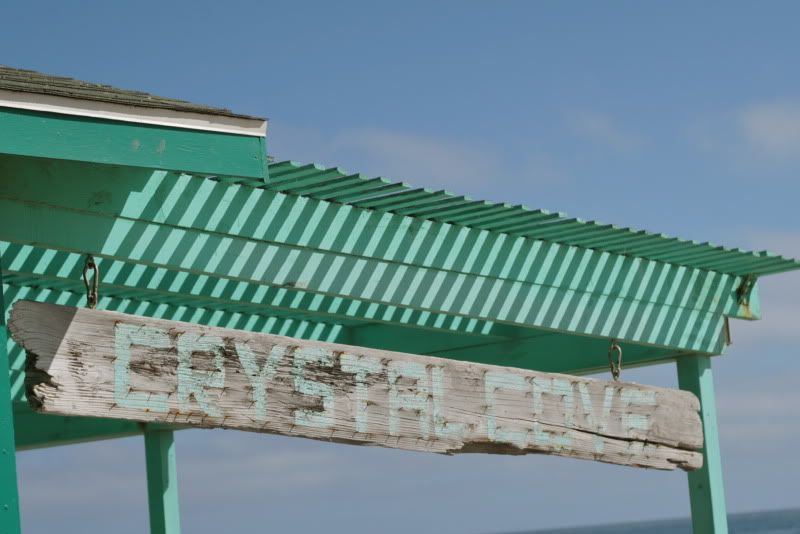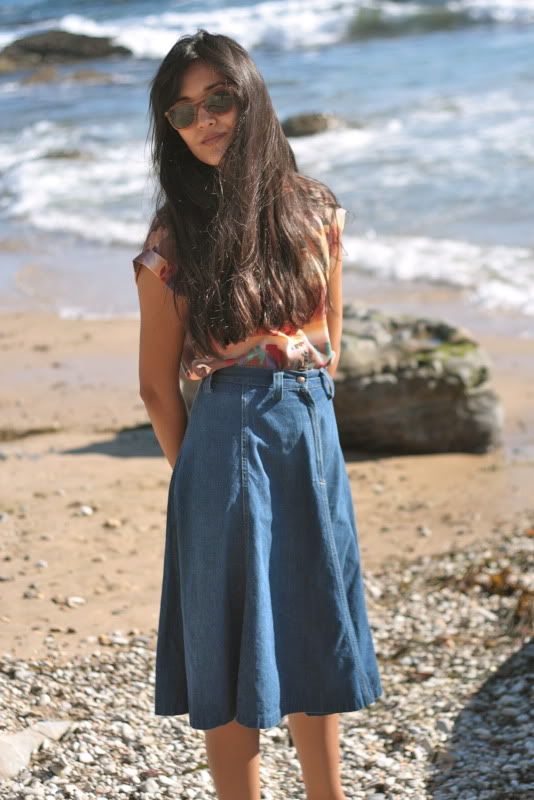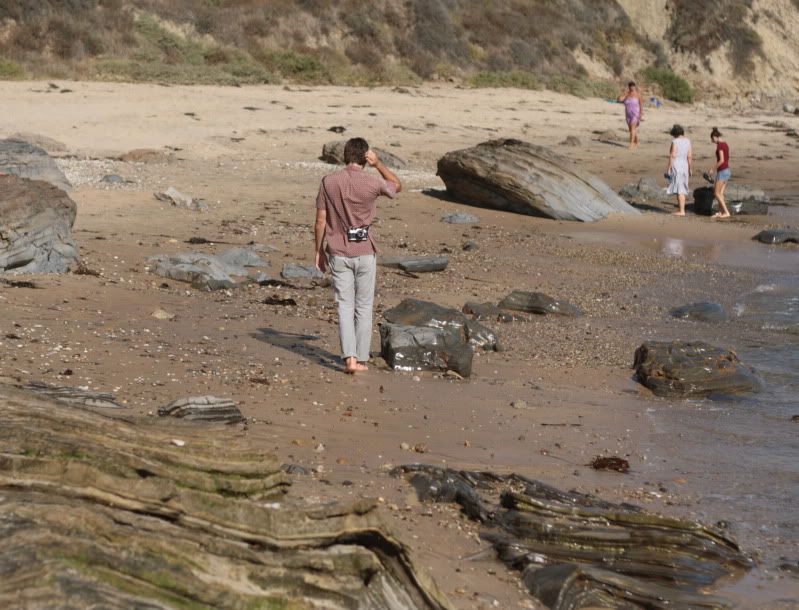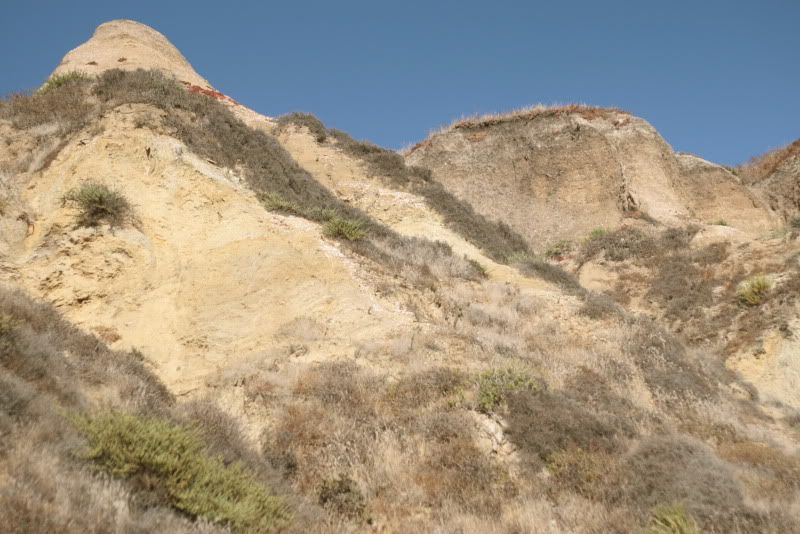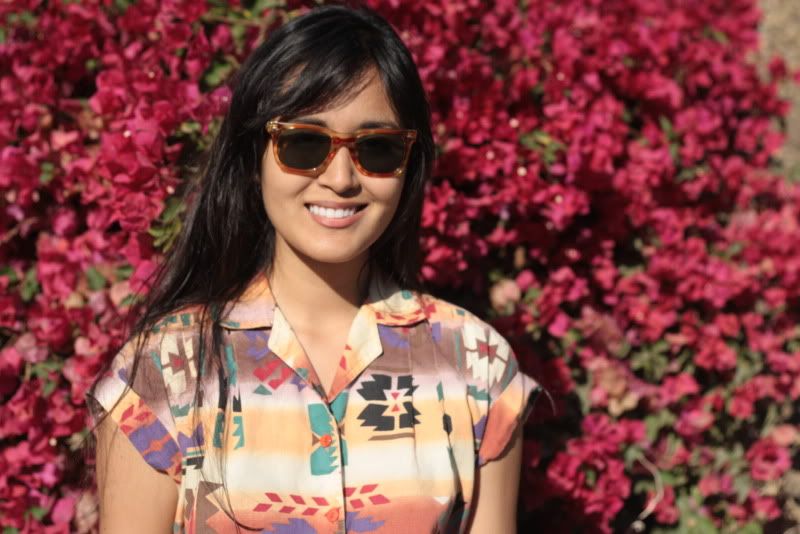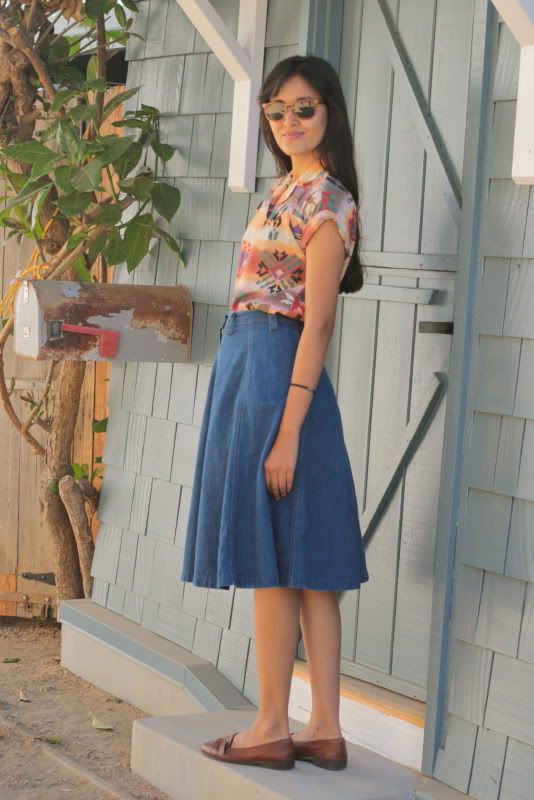 Outfit Details
:
Southwestern camp shirt: vintage pile sale
1970s denim high waist circle skirt: vintage pile sale
sunglasses: thrifted
brown leather loafers: thrifted
O
n an afternoon that we were both pretty bored, I asked Grant if we could go to Crystal Cove and check out the little cottages. For those unfamiliar, Crystal Cove is basically a nature preserve in Orange County that has within it's confines the only piece of undisturbed, like it was way back when, Orange County coast. What makes the park especially cool is that the beach still has a handful of 1920s-1950s beach cottages right on the shore. True, the originals are dilapidated (but as someone who likes that whole "romance of decay" sort of look I don't really mind) but I think it's great to be able to see this part of Southern California the way it used to be. Nevermind that you can see the multimillion dollar homes that are perched on hills directly above the park! Besides the modern visual pollution, this beach has renovated cottages that you can stay in and what makes them extra awesome is that the insides have been restored to their 1930s (or 40s or 50s) grandeur. This means the furniture and textiles inside are all of the period which is awesome. Even though I live like 15 minutes away I'd consider staying in these cottages, I'm just such a sucker for historical places!
On a more fashion related note, I found my new favorite blouse at La Bomba last weekend. I don't think I'v ever seen a Southwestern print that I didn't like (minus the offerings from Cold Water Creek, that is) but I'd say the print on this blouse is the best i've seen in a while. What's even better is that this shirt was $3
PS
Tomorrow morning I'm doing a live style chat over at
Rue La La's Facebook
page, come ask me a question!
PPS
I'll be updating the
store
tomorrow so stay tuned for some pretty things. Namely 1950s-60s frocks in an array of dreamy blues and the best ever novelty equestrian button up (which I'm so tempted to keep!)
PPPS
Don't forget to enter my
giveway
to win $50 to my store, Three Feathers! Giveaway ends tomorrow night and I'm picking the winner and announcing Thursday!