F
rom time to time I've gotten e-mails and comments asking me about my hair. How do I style it, what products do I use, do I have any tips, etc. Well, I thought I'd write a little tutorial for you all showing how I do my hair. It's embarrassingly low maintenance and super cinchy so read on if you're curious.
The tools.
A few months ago
Misikko
contacted me asking if I would like to review their
HANAair Professional blow dryer
. I said, sure! Namely because I don't actually own a blow dryer. I'd always just borrow my mom's travel blow dryer if I ever felt the need to dry my hair but otherwise, I just let my hair air dry. HOWEVER, I do realize that for some people air drying really isn't an option for their hair so a good blow dryer is just what the doctor ordered.
Besides that, I use Suave hair products because I'm cheap and they deliver results. I really like the children's detangler spray, it smells like apples and I love that. I also really like the mousse they make because it doesn't make your hair crunchy and disgusting feeling. Maybe cool if you're a chola rocking brown lipstick and a tweety bird mini backpack, but one can only get away with that look so many times...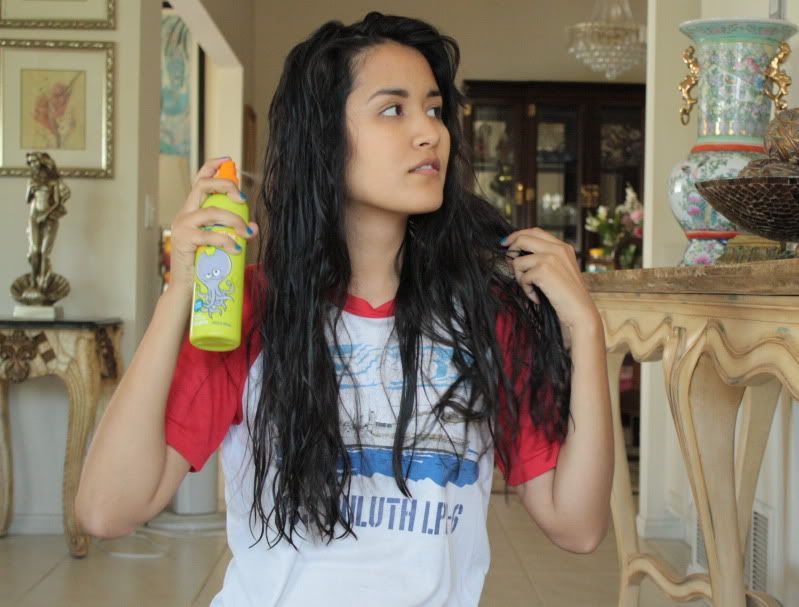 1. Liberally spray wet hair with detangler, focusing on the ends (that's where my hair gets knotted the most).
2. Using a wide toothed comb to brush and detangle hair. Detangling from the ends up works pretty well for me.
3. All detangled! Yes!!! This is always the hardest step in my hair routine, detangling my hair (and it is always my number one reason for me wanting to go short again...)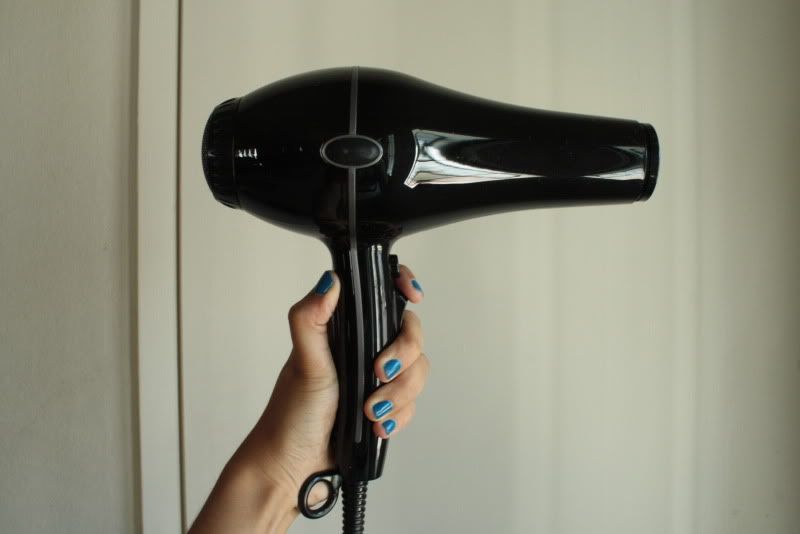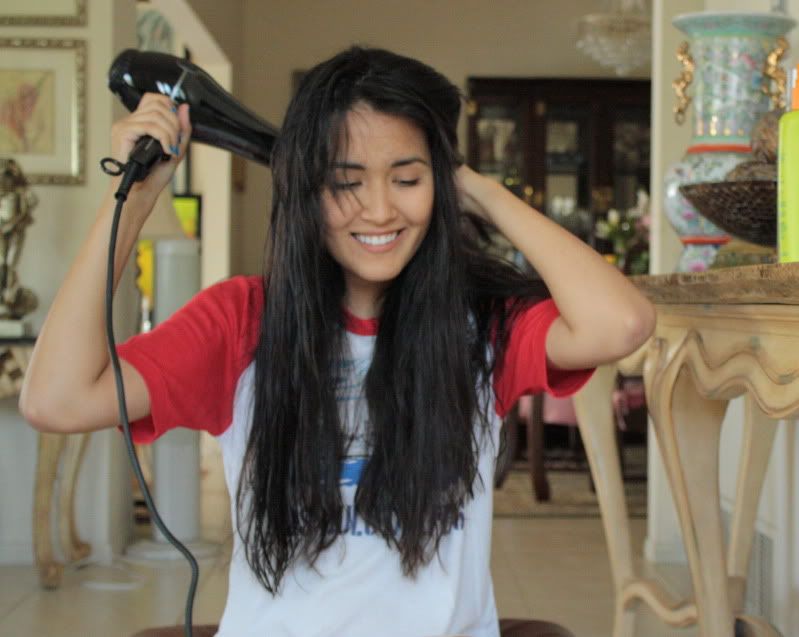 4. Grab your blowdryer and dry your hair. When I blow dry there is no rhyme or reason to my technique, in fact, there is no technique. I concentrate on the roots first and then just run my fingers through my hair. If possible, I suggest blow drying and leaving your hair
almost
dry. The less heat you use on your hair the better.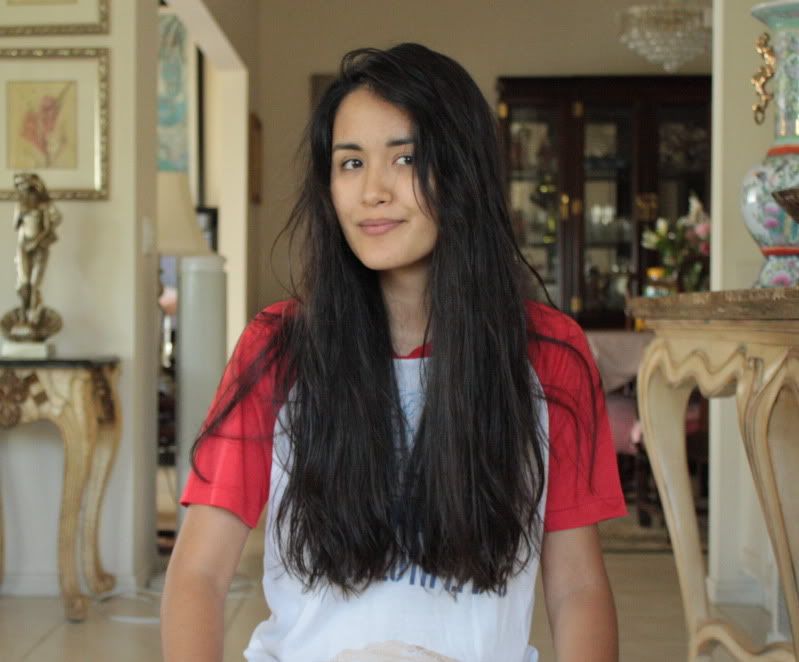 5. Almost done.
6. I then brush my hair 1,000 times. Jk. But I do brush it when it's basically dry. I used to brush it while it was wet but I hear that's a major no-no. The brush I'm using is a mixture of boars hair and synthetic bristles (I won it in a raffle and was so pumped) and let me tell you, it makes such a difference. ESPECIALLY if you have long hair. I was slummin it with a plastic drug store brush for years and wanted to cry after I'd brush my hair because sometimes the brush would literally get stuck in my hair and I'd have to spend time untangling it and ugh. No good.
7. All brushed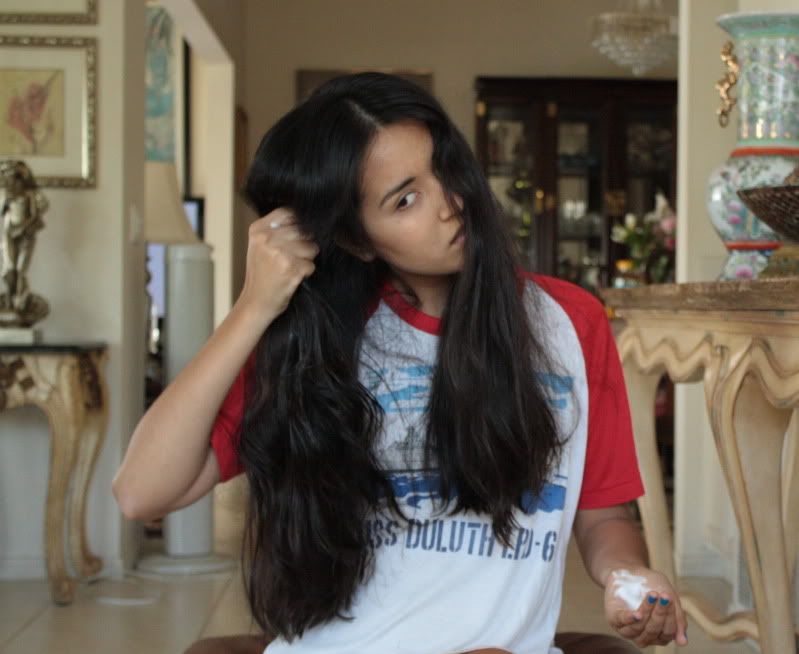 8. Mousse time! I use a lot of mousse because I have a lot of hair but if your hair is shorter you can get away with less. I used probably four dollops the size of limes for my entire head. I hang my head and work the mousse from the tips to my ear while scrunching my hair so that I can coax some waves in.
9. Et voila! My finished head o' hair. Nice and wavey and dare I say beachy looking?
And that's it! This is probably the only hair tutorial that I am qualified to write so there you have it and thanks for reading :)
P.S. Thanks again to
Misikko
for sending over that blow drier, if you blow dry your hair on the reg I do recommend it. I thought the design was nice, it was light weight, and it has a bunch of different heat settings (so if you wanted a blast of cold air to make your hair super shiny you can do that with this blow drier). Good stuff.